Safe and Spooky Halloween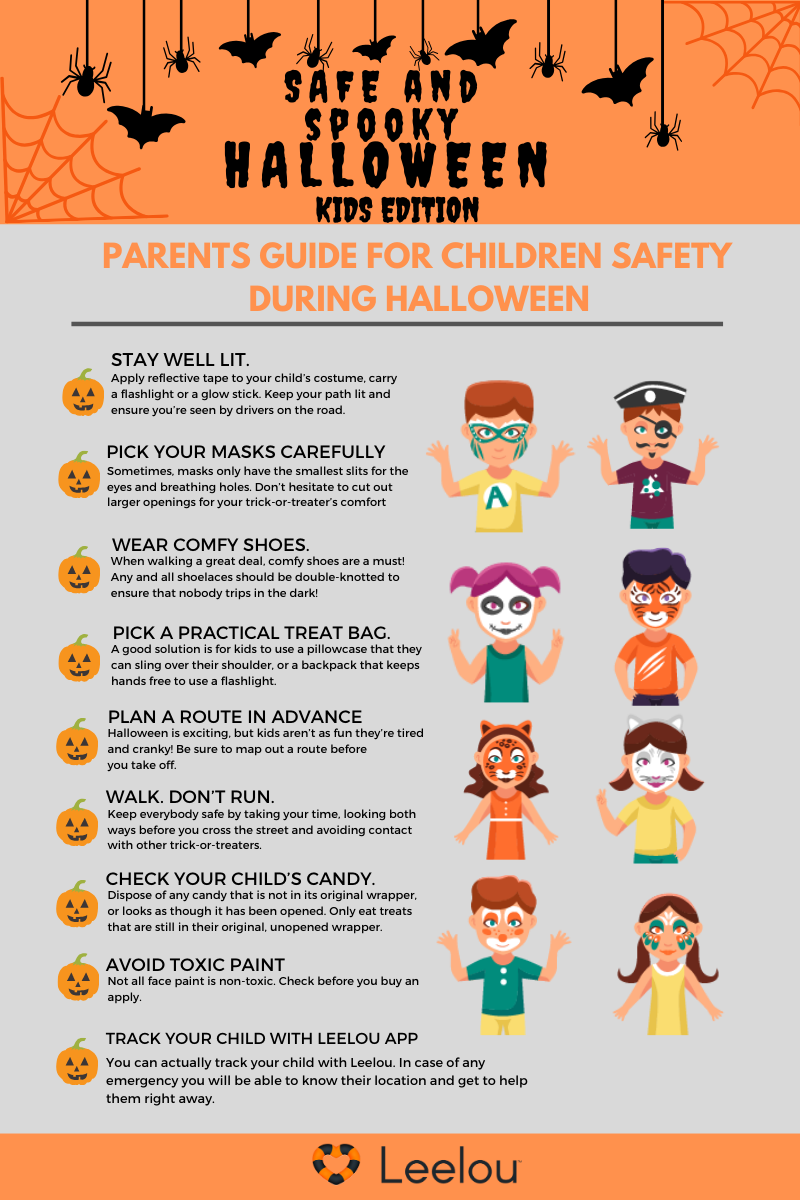 Even without all the sugar, kids are bouncing with energy and joy to hit neighborhood streets and gather up the sweet goods. But it can be a slightly stressful time for parents to keep track of children so these tips and app can help you stay aware and connected to one another.
The key to keeping kids safe this year, and every year, is close to parental supervision and a few trick-or-treat precautions. Leelou has compiled a list to keep your trick-or-treaters safe this Halloween. Unfortunately, it won't protect those little ghouls and goblins against sugar rushes and bellyaches!
STAY WELL IT
Apply reflective tape to your child's costume, carry a flashlight or a glow stick. Keep your path lit and ensure you're seen by drivers on the road.
PICK YOUR MASKS CAREFULLY
Sometimes, masks only have the smallest slits for the eyes and breathing holes. Don't hesitate to cut out larger openings for your trick-or-treater's comfort.
WEAR COMFY SHOES
When walking a great deal, comfy shoes are a must! Any and all shoelaces should be double-knotted to ensure that nobody trips in the dark!
PICK A PRACTICAL TREAT BAG
A good solution is for kids to use a pillowcase that they can sling over their shoulder, or a backpack that keeps hands free to use a flashlight.
PLAN A ROUTE IN ADVANCE
Halloween is exciting, but kids aren't as fun they're tired and cranky! Be sure to map out a route before you take off.
WALK. DON'T RUN
Keep everybody safe by taking your time, looking both ways before you cross the street and avoiding contact with other trick-or-treaters.
CHECK YOUR CHILD'S CANDY
Dispose of any candy that is not in its original wrapper, or looks as though it has been opened. Only eat treats that are still in their original, unopened wrapper.
AVOID TOXIC PAINT
Not all face paint is non-toxic. Check before you buy and apply.
CREATE A CANDY CHECKPOINT
Check all candy before your child eats. To reduce the urge to eat unchecked candy while trick or treating, bring your own candy on the route. Feed kids a good meal before trick-or-treating so they won't be as tempted to eat any candy before they bring it home for you to check. Do not allow children to eat any treats until they've been sorted and checked by an adult at home
TRACK YOUR CHILD WITH LEELOU
You can actually track your child with Leelou. In case of any emergency, you will be able to know their location and get to help them right away. In under 15-seconds, Leelou Guardians will receive the GPS location of where your child is.
You can download LEELOU for free at Apple AppStore and Google Playstore HERE
Got any Trick-or-Treat safety tips? Share it with us!